Ferienhaus Eulenschlupf Spreewald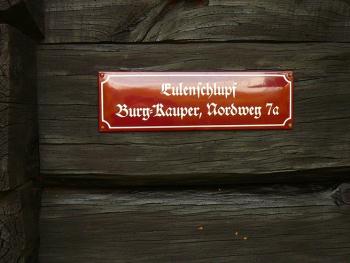 Steffen Butzeck
Nordweg 7
03096 Burg-Spreewald
Germany
Telephone:
+49 (0)35 603 / 61 304
Email:
ferienanyhaus@eulenschlupf-spreewald.de
Website:
www.eulenschlupf-spreewald.de
General Terms and Conditions
Data policy
Personal data submitted on the website will be treated confidentially and will not be disclosed to third parties. Your data is only used to process your request.
Links
Content of external links do not represent our views and positions. They are not part of this website. We have no influence on the design and content of linked websites, but ensure the legal correctness of the link's content at the time of publishing the link. This declaration applies to all visible links at eulenschlupf.de and eulenschlupf-spreewald.de.
Copyright
Texts, images and other data are generally available for private use except for republications. Steffen Butzeck has the exclusive text rights. All entries, data, texts, graphics, images, buttons and pictures are protected by copyright. Translations, reprints, copies as well as storing data in data processing equipment is prohibited without our exclusive written consent.
Image credits
Insights, Images 2/6/11: © Andreas Traube, Lübben, Germany
Insights, Images 5/15: © Leoward Cabangbang, Berlin, Germany
Insights, Images 4/21/22: © Bernd Schulze, Germany
Other images: © Steffen Butzeck, Burg, Germany
Miscellaneous
These General Terms and Conditions are part of this online presence. If any term or other provision of these General Terms and Conditions is determined to be invalid according to applicable laws, the term(s) shall be deemed replaced by a term or provision that is valid and enforceable and that comes closest to expressing the intention of the invalid term(s). All other conditions and provisions of this agreement shall nevertheless remain in full force.
---
The person responsible for the website's content is Steffen Butzeck, Burg, Germany.
© Programming & Design: Sinner Datenservice GmbH, Berlin, Germany
Translation: Christoph Jahn